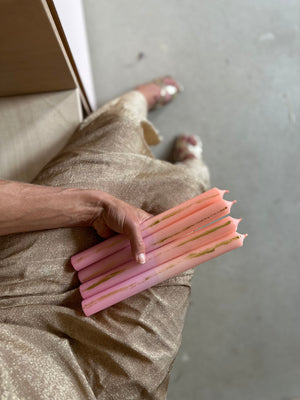 Vier Kerzen – Goldaprikose
Sale price Price $19.00 Regular price Unit price / per
Tax included.
Shipping
calculated at checkout.
'Goldaprikose' erscheint jedes hajr im neuen Design, das farbschema ist immer ähnlich. Goldaprikose 2023 ist zweifach getaucht und von Hand mit einem Goldstreifen per Pinselstrich geschmückt. Als Vierergebinde ist sie die perfekte Kranzkerze, edelt aber auch jede Tafel und ist ein prächtiges Geschenk. 
Alles wird Gold.
Im Tauchbadverfahren färbe ich die Kerzen von Hand. So wird jede mit ihren kleinen Besonderheiten und Unregelmäßigkeiten zu einem Einzelstück.

I color candles in dipdye-technique. Every single candle is unique and beautifully irregular.
Die Goldmanufakturkerze ist etwas länger und etwas stärker als viele Tafelkerzen und passt in die meisten Kerzenständer - Perfekt passt die Frau Gold Nebensonne.
Die äußere Wachsschicht ist etwas empfindlich. Sei vorsichtig beim Eindrehen in den Kerzenständer.
My candles are a bit larger and longer as common table candles and fit in many holders. The candle holder 'Frau Gold Nebensonne' fits perfectly for the table candles.
Schütze Deine Kerze vor Zugluft, genieße das Licht und lasse sie nie unbeaufsichtigt brennen.
_

Brenndauer / Burntime:
ca. 9 Stunden / about 9 hours
Maße / Measurements:
Paraffin ca. 22mm x 250mm


Material / Materials:
Die Paraffinkerze wird in kleiner Struktur regional in Deutschland gefertigt und von mir veredelt.
Farben können abhängig von genutztem Endgerät von der Darstellung abweichen. Wenn Du Dich für ein Design entscheidest, bekommst Du einen Satz der gleichen Farbgruppe. Farbintensität / -abfolge und Tauchtiefe kann herstellungsbedingt variieren.  
The colors intensity and the dip depth vary due to my technique. Please note that the impression via screen may be different to real life. But people are saying: they are more beautiful in reality. :)
_
Hab es licht!